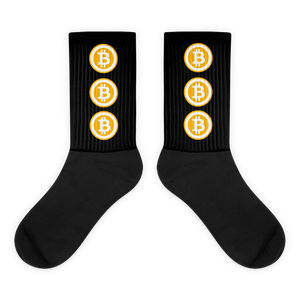 These Bitcoin Socks by Krypto Threadz are extra comfortable thanks to their cushioned bottom. These Bitcoin socks are black with the Bitcoin Logo printed along the leg three times with crisp, bold colors that won't fade. Turn head when wearing these Krypto Threadz favorites!

• 60% nylon/22% cotton/18% spandex
• Crew length
• Cushioned bottom
• Ribbed leg
• Cold wash with like colors and hang dry4
Tech Fact: What is a fork? One must first remember that a true decentralized Blockchain is open source. This means that all of the Blockchain's source code is avaliable for others to take and create their own implementation of this code. Forks happen in normal software development as well.
A soft fork is an upgrade or change in the source code which is backwards compatible and will still function with older implementations of the source code. A hard fork is when the upgrades create a situation where backwards compatibility is impossible. The process of forking bitcoin and the history of its forks is vast and beyond this blurb.
Size guide
| | | | |
| --- | --- | --- | --- |
|   | M | L | XL |
| US men (inches) | 7-8 | 8 ½-11 ½ | 12-15 |
| US women (inches) | 8 ½-9 ½ | 10-13 | 13 ½-16 ½ |
| EU (inches) | 39-41 | 42-45 ½ | 46-49 |
| UK (inches) | 6-7 ½ | 8-11 | 11 ½-14 ½ |